Publication date 29-03-2019 | 09:24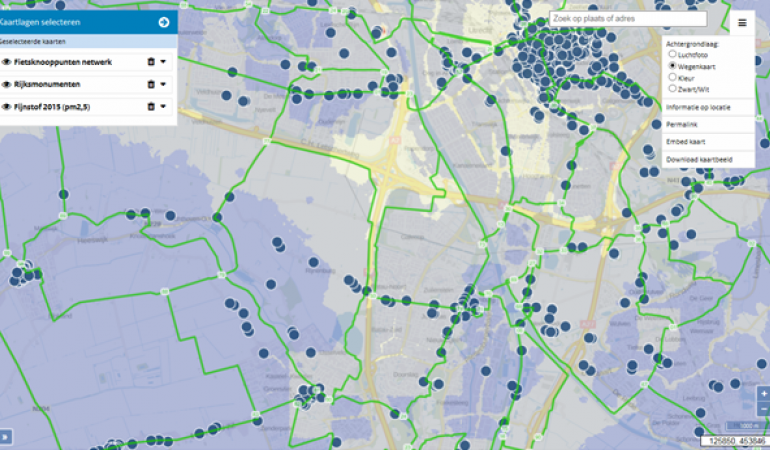 In the Netherlands, more than 25% of all trips is made by bicycle. The number of bicycles in the country outnumbers the amount of people; cycling is part of our way of life. This has many advantages for our health and the living environment.
The amount of trips made by bicycles show that the Netherlands are the top one cycling nation. Even with an ageing population, the majority of the Dutch still cycles. Cycling has important benefits; it is a crucial part of daily physical activity in the Netherlands. Almost half of the population meets these guidelines. Cycling also contributes to the efficient use of space in cities, if people shift from car use to cycling.  
Although the modal share of cycling is high, there is still room for further growth. The Dutch Tour de Force aims to increase the number of kilometres cycled in the period 2017-2020 by 20 percent. The Dutch Cycling Vision assists cities and regions around the world making cycling an option for everyone.
The Atlas Living Environment shows maps of adherence to physical activity guidelines and national biking paths. Regional paths will be added in the near future. These maps can be combined with maps of cultural heritage or air pollution, to find attractive and more healthy paths (see overlay below). A factsheet shows more maps, facts and figures of cycling. Not only Dutch cities embrace cycling. In the city of Copenhagen, for example, the number of bicycles entering the city centre exceeds the number of cars
Top picture: overlay of maps in the Atlas Living Environment: biking paths (green lines) near and in the city of Utrecht, combined with cultural heritage (blue dots) and air pollution levels (levels of particulate matter as background, blue=low levels, yellow=moderate levels).